---

BMSIT&M established BICEP - BMS Innovation Centre and Entrepreneurship Park - Incubation centre to encourage students and faculties to catalyze development of innovation-driven enterprises. The Centre has been recognized and approved as the Host Institute to setup Business Incubator (BI) by Ministry of MSME, Govt. of India. The Incubation centre, activity engaged to enable its students get first-hand experience in entrepreneurship, promote innovation at the institute and provide comprehensive and integrated range of support including space, mentoring, training programs, networking and an array of other benefits.

BICEP is housed in the campus itself. It has the Best facilities and resources available to incubatee such as laboratories, development and testing centers, computing resources, library and above all highly experienced and knowledgeable human resource. In addition to these, Centre also has a network of eminent professionals, academicians, bankers, venture capitalists and businessmen, who can extend support to new ventures.

BICEP Newsletter

The Centre offers training in ideation, business planning, entrepreneurship, marketing, business communication, intellectual property, idea pitching others.
Ideas, Products & Tech Startups - 13 Jan 2023

---
Recognitions
---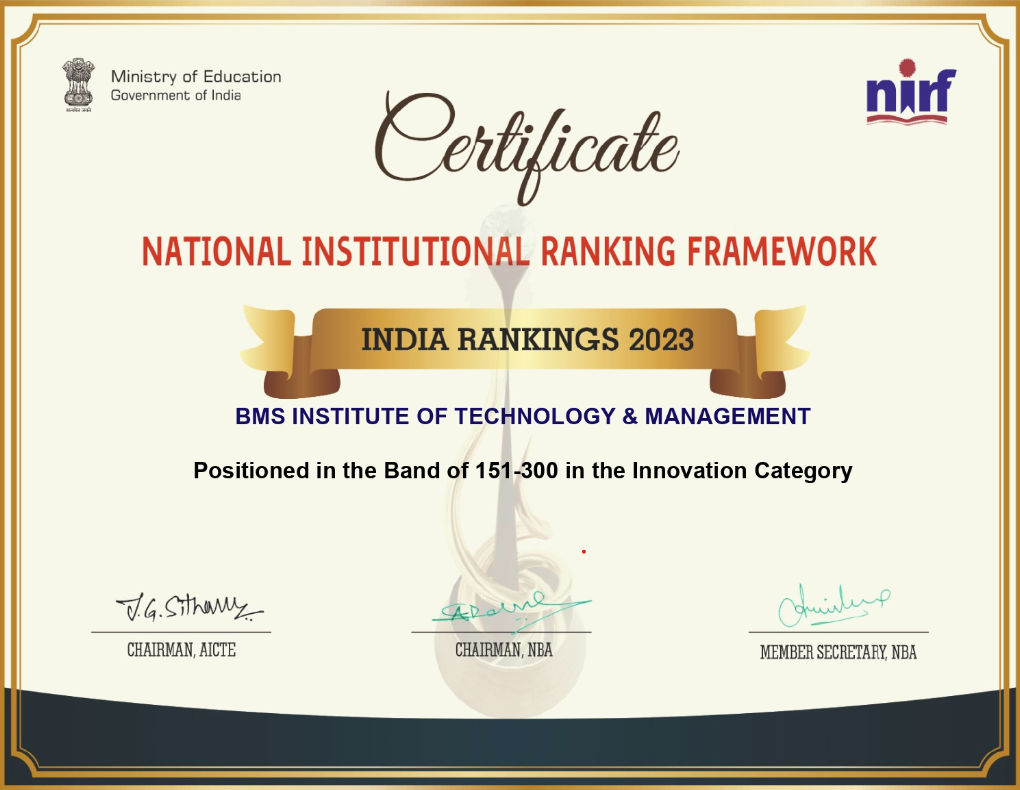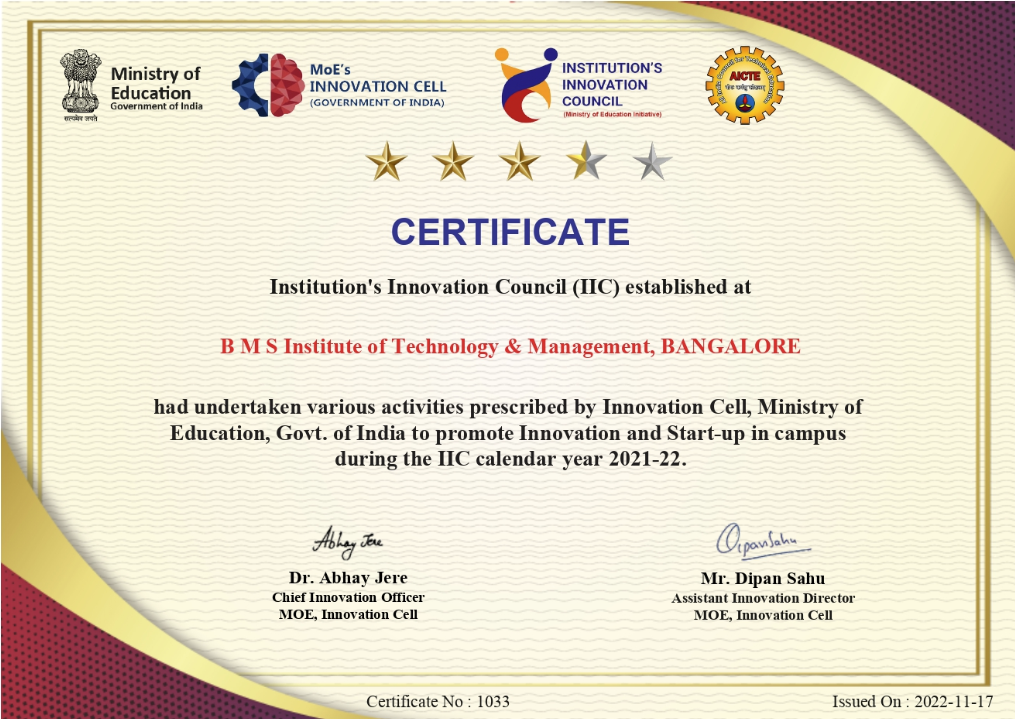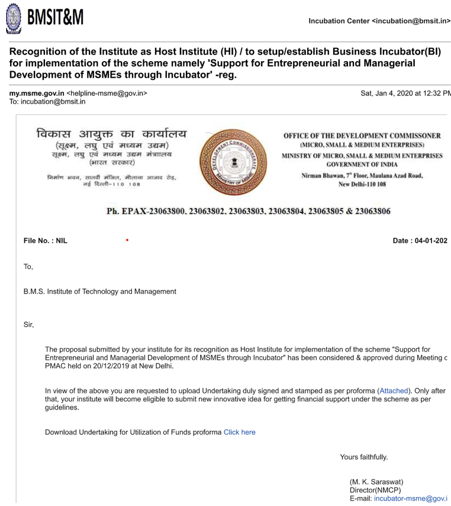 ---
If you want to pitch in your idea, please fill out this form. We shall get back to you!
---
Offering
Pre Incubation
Incubation
Implementation
Services
Business Facilitation

Pre-feasibility studies, Project appraisal, Market research and techno-commercial studies

Technology Consultancy

Pre-feasibility studies, Project appraisal, Market research and techno-commercial studies

Training

Pre-feasibility studies, Project appraisal, Market research and techno-commercial studies
Infrastructure
Work Place

Ready to use office space with furniture, connectivity, networking, office support and common facilities like meeting room, fax, copier etc

Library

Access to the institution library

Technical Support

Faculties of BMSIT&M will provide necessary technical support

Laboratory, Workshop, & Testing Facilities

The incubatees will have access to R&D laboratories, workshops and testing/characterization facilities available on campus
Mentoring
BMSIT Incubation Centre gives importance to mentorship and believes that sharing the knowledge from experience can ease challenges of an entrepreneur. The mentoring support is offered through a pool of mentors consisting of senior faculties, Industry people, Business Consultants who will enlighten the road for incubates. Business modelling, Business plan preparation, finance and legal support are all other branches of the Mentorship Program One of the objectives of Incubation is to utilize the technical expertise and lab infrastructure of BMSIT&M. Therefore, every company that is offered incubation at BIC has to select one faculty member from the Institute who shall act as a mentor to the incubated company and guide the company on product development. The company has to offer minimum 1% of share equity to the mentor as a consideration of mentorship.

Industry Mentor BIC has created a database of Industry mentors. Every company incubated at BIC may select one Industry mentor within six months from the date of joining the centre. In case the incubatee opts for an industry mentor, the company has to offer a minimum 1% of equity to the mentor as a consideration of mentorship.
Funding
BMSIT Incubation Centre may provide seed loan subject to the availability of funds/ grants/ schemes meant for this purpose. Seed loan will be sanctioned only to the registered companies and shall be based on the merits of each company. Further, the admission to BIC shall not automatically entitle the companies to seed loan.

A company desirous of getting seed loan may submit an application for seed fund after three months of incubation at BIC. The seed loan will be sanctioned based on the eligibility criteria as decided by BIC. It would also be subject to the terms stipulated as per the Seed funding Guidelines of BIC.
Cash support - up to 1 Lakh
Grants Support Advisory from various funding services
Venture/ Angel Network Support
Team
Dr. Seema Singh
Dean - Innovation and Entrepreneurship
Mr. Chennabasava C
BICEP Manager
Dr. Usha B A
Chief Coordinator, Incubation Centre
Dr. Ravichandra K R
Deputy Coordinator, Incubation Centre
Mr. Madhu M C
Chief Coordinator, Innovation Centre
Dr. Vinay H V
Deputy Coordinator, Innovation Centre
Ms. Shama H M
Deputy Coordinator, Innovation Centre
Mrs. Bharathi R
Chief Coordinator, Entrepreneurship Development Cell
Mrs. Archana K
Deputy Coordinator, Entrepreneurship Development Cell
Department Faculty Coordinators
| Department | Faculty Names |
| --- | --- |
| AI&ML | Dr. Pradeep K R, Dr Chandrashekar |
| Chemistry | Dr. K Suresh Kumar |
| Civil | Dr. Anup Ekbote, Dr. Marsh Bandi, Dr. G Aruna |
| CSE | Prof. Jagadish P, Prof. Rajesh N V, Prof. Mari Kirthima |
| ECE | Dr. Suneet Kumar Agnihotri, Dr. Anna Marie George, Dr. Asha K |
| EEE | Prof. Nagaraj D Chonali, Dr. Madhu Palati, Prof. Suma Umesh |
| ETE | Dr. Sumathi M S, Prof. Prathiba N |
| ISE | Prof. Mahalakshmi S, Dr. Karthik S A, Dr. Shanthi D L |
| Mech Engg | Prof. K Chandra Sekhara Reddy |
| Maths | Dr. Priyanka Pal |
| MBA | Dr. Nethravathi N |
| MCA | Prof. Dwarakanath G V, Prof Reshma C R |
| Physics | Dr. C Kavitha |
Student Interns
Mr. Raghav Kumar Jha
USN No.: 1BY21IS124
Mr. S C Arham
USN No.: 1BY20CS153
Contact Us
---
Email:
bicep@bmsit.in