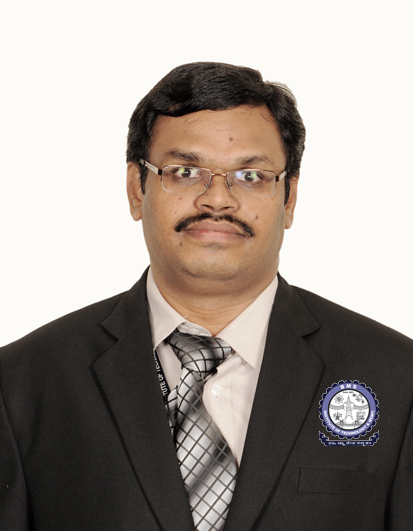 Dr. Mallikarjuna Gowda C.P, M.E, Ph.D (Cognitive Radio Networks)
Associate Professor and HoD, Department of Electronics and Telecommunication Engineering (ETE)

Hello Everyone,

As a Head of Electronics and Telecommunication Engineering (ETE) dept. It gives me immense pleasure in sharing some of important information about my Electronics and Telecommunication (ETE) dept. which is NBA accredited till June 2025.

---
Highlights of the Department
---
25 University ranks from its inception - View
Excellent Placement record with current highest package- Rs.22 Lakhs/- per annum - View
Industry attached Laboratories from Intel, Texas Instruments to train students on cutting edge technologies. - View
Consultancy and funded projects - View
NBA Accreditation till 2025
Active Research centre since 2016 - View
Quality Publications and Patents - View
The Dept. of ETE, imparting quality education in the field of Electronics and Telecommunication Engineering and allied fields of engineering keeping in mind, the requirements of the dynamically changing and highly competitive global environment of the present era. Dept is proud that it has 25 students' ranks in the university with two GoldMedals to its credit.

Dept of ETE Practices OBE and brings innovation in Teaching Learning Process (TLP), through a team of competent and committed faculty members and technical staff. At present, we have 80% of our faculties with Ph.Ds. Dept has funded project from VTU by Dr. Seema Singh as a PI and one AICTE sponsored ATAL FDP by Dr. Mallikarjuna Gowda. P for the academic year 2021-22.

The Department has very strong student support system in place to nurture and develop them with all round personality. Department has strong industry linkages with companies like Texas Instruments, INTEL INDIA, Elint Labz, Peenya Industries Association, Techni lab Instruments and University of Sannio, Benevento, Italy, for student and faculty exchange programs.

Placement through the campus is excellent. All eligible students are placed in major MNCs and the highest package offered to our student is Rs.22 Lakhs/- per annum.

---
Best Practices in Place:
---
Project Based Learning (PBL), Project Exhibition, Dreams Hackathon 2022, Project Expo.
Skill based trainings:

Open Courses (Skill enhancement program)
Proficiency courses with Intel and Texas to train students on core Industry requirements

Industry Visits for all students on semester basis
Expert Talks from Industry Experts and Alumni all over the world
Outcome Based Education (OBE) to improve the learning outcome of a student and develop all round personality by participating in extracurricular activities like dept. fest and Institute Levels cultural events
Mentoring students through scholarship
Remedial classes for slow learners
Coursera/MOOCs online courses offers as part of e-learning
Outreach Activities
---
Have a Virtual Tour of the ETE Department
---
---
Students' Projects - Sample
---
| Sl. No | Title of the Project | Project YouTube Link |
| --- | --- | --- |
| 1 | Smart Electric Bicycle | view |
| 2 | Intellingent Fruit Plucker | view |
| 3 | Evanesco | view |
| 4 | Bone Conduction Helmet BCH | view |
| 5 | Automated Dry Waste Classification | view |
| 6 | Final year Students' Projects | view |
| 7 | 3rd Year Students' Projects | view |
| 8 | DREAMS HACK 2022 | view |
---